Thirty years of solidarity and awareness-raising by organising football matches, ski and go-kart races and golf tournaments in Monaco and throughout Europe.
A commitment and a mission that has never failed.
2022 is an important year for the STAR TEAM FOR THE CHILDREN Association, as its 30th anniversary marks the achievement of this prestigious and rewarding goal. A goal that will be celebrated together with champions of many sports for the traditional WORLD STARS FOOTBALL MATCH, now in its 29th edition.
The event will take place on Tuesday 24 May at 7pm, at the Louis II Stadium in Monaco and will mark the encounter between STAR TEAM FOR THE CHILDREN and ALL STARS FORMULA 1 DRIVERS, on the occasion of the Grand Prix that will take place from 26 to 29 May 2022. Scuderia Ferrari drivers Charles Leclerc and Carlos Sainz will also take part in the football charity game for the benefit of "star team for children", alongside Ferrari junior Mick Schumacher and former Scuderia Ferrari drivers Felipe Massa and Kimi Raikkonen, as well as many other current and former F1 drivers.
The event represents the best opportunity to celebrate 30 years of activity in the presence of H.S.H. Prince Albert II, Honorary President and founder, together with Mauro Serra, of the STAR TEAM FOR THE CHILDREN Association and to thank the 285 members, players and celebrities, the public and sponsors who, over three decades, have accompanied and supported over 100 sporting and charitable events. Initiatives born with a single goal: to raise funds to help children in need and less fortunate in the world.
The STAR TEAM FOR THE CHILDREN Association renews the invitation to meet at the stadium on 24 May. It will be a great return after three years of absence due to the health emergency. A special and one of a kind appointment with the champions who represent the history of sport today and yesterday, united and close to the public with the goal of achieving the most important result: the victory of solidarity for charity.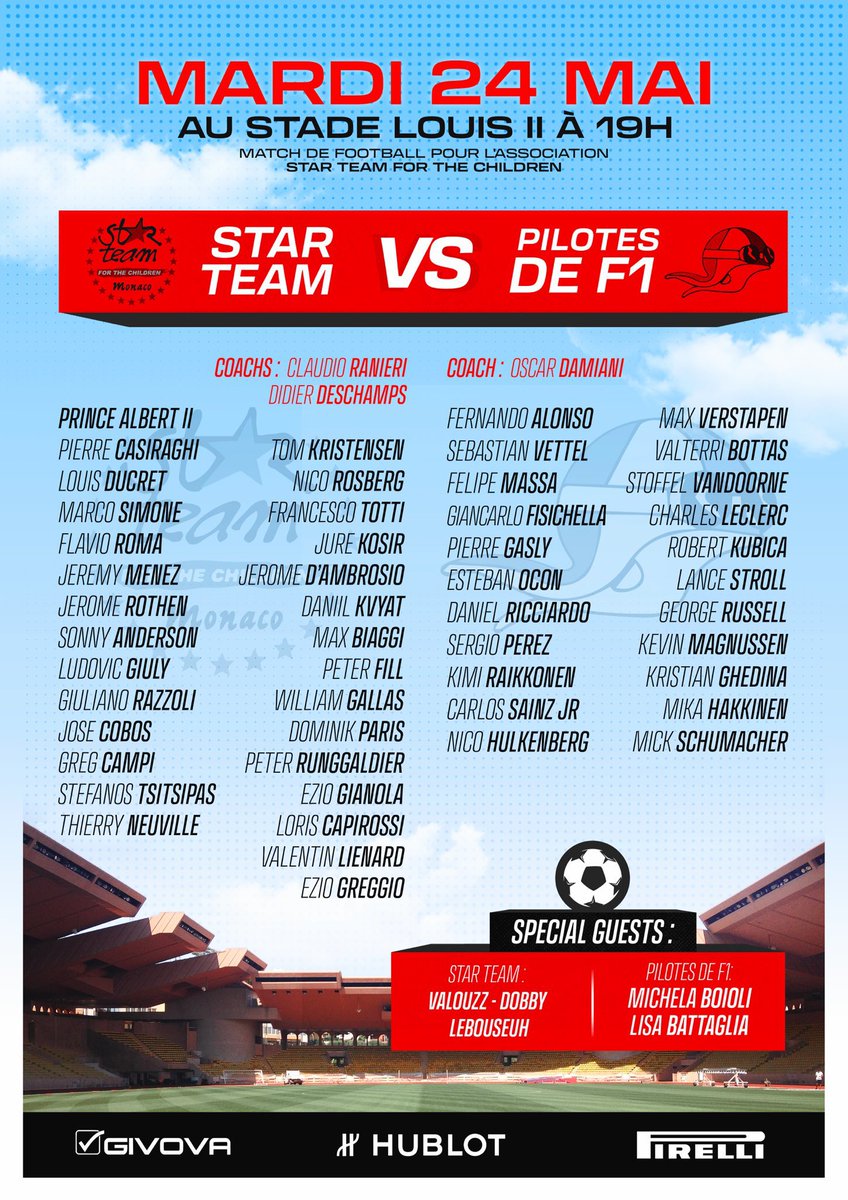 Scuderia Fans
Let other Scuderia Fans know about us